Are you looking for the best CSS3 books to get you up to speed or hone your skills?

This list was first published in 2011, and has been updated yearly since.
CSS is a simple style language used to control the style and layout of your web pages. CSS3 is the latest standard of the language, adding new features and functionality. With the best CSS3 books and references, you can create beautiful and stylish effects such as transparent backgrounds, shadows, and gradients without using images. You can create animations without using flash, and customise the layout and design of a site to suit the user's device (mobile, iPad or desktop) without using JavaScript.
It is generally assumed that those wanting to learn CSS3 already have a solid background and understanding of CSS. Before getting too deep into what is possible with CSS3, I still highly recommend gaining skills in traditional CSS with one of my recommended CSS books. What you learn will be used when you advance to CSS3 and begin applying fresh and advanced techniques. See my list of best CSS books here.
---
Stunning CSS3: A project-based guide to the latest in CSS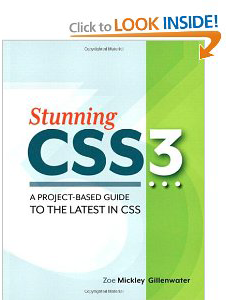 Price: $26.67
My first on the list of CSS3 books is not one for those new to CSS; it assumes the reader has a reasonable grasp of HTML and traditional CSS. It is a well-designed and easy to read book with an elegant and open layout. In terms of content, it is well written, informative and full of references, downloadable resources, and extra links for further reading. With so much interest in responsive web design, it is invaluable for those wanting to build sites that adapt to the device being used to view it (iPhones, iPads, netbooks and notebooks). Jam packed with information and thorough explanations, this book is the perfect reference point and resource for those wanting to take their developed CSS skills to the next level. Read more..
---
The Book of CSS3: A Developer's Guide to the Future of Web Design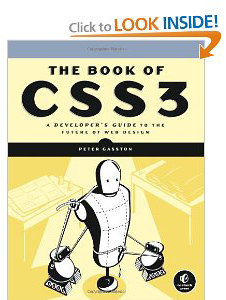 Price: $20.69
Another one of those CSS3 books aimed at an audience already familiar with HTML and CSS, focusing mainly on the new features packaged with CSS3. The author's style of writing is clear, simple and to the point. He guides you with enough sample codes and output to successfully understand each chapter. These are clean, easy to understand and quite in-depth, ensuring you finish each chapter with a solid understanding of each topic. Browser compatibility and feature support is also included as a useful reference section, as well as online resource links for further reading. Read more..
---
CSS3: Visual QuickStart Guide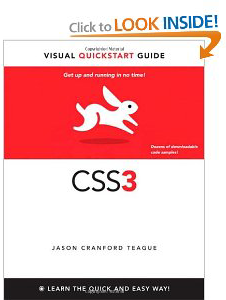 Price: $19.79
Both beginning users, who want a thorough introduction to CSS, and more advanced users, who are looking for a convenient reference, will find what they need here. It introduces you to CSS and leads into the new features of CSS3 as your knowledge grows along the way. Jason's writing style is light and casual but informative and easy to follow. Whether you're a beginner to CSS or a user with a degree of experience who wants to catch up with a good CSS3 book, this one's winner. References and downloadable files from his website are extensive and make it easier for you to follow more complicated subjects. Read more..
---
The CSS3 Anthology: Take Your Sites to New Heights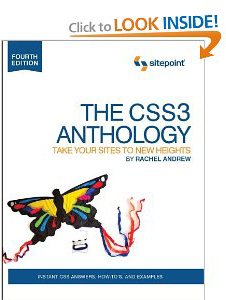 Price: $26.50
The CSS3 Anthology: 101 Essential Tips, Tricks & Hacks is a compilation of best-practice solutions to the most challenging CSS problems. The fourth edition of this best-selling full-color book has been completely revised and updated to cover newer techniques enabled by CSS3. With over 100 easy to read tutorials packed with info and downloadable code, this book will show you how to master the look and feel of pages you are designing. Good for both beginners and intermediate readers, as well as those new to the language, this CSS3 book will surely teach you a thing or two. Read more..
---
Practical CSS3: Develop and Design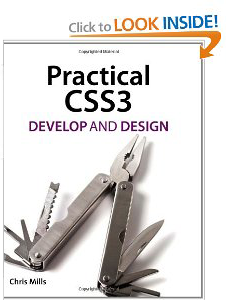 Price: $27.93
This book teaches how to use CSS3 to build cool, responsive user interface features that are feasible for use in real-world projects today. Readers will appreciate the author's approachable style and will catch on quickly with this easy-to-follow, practical guide. Topics include CSS3 typography, bling boxes, navigation buttons, animated effects using CSS3, using CSS3 to implement icons, CSS3 layout chops, adaptive layouts and responsive design, fluid layouts and percentages, and styling media. Read more..
---
Learning CSS3 Animations & Transitions: A Hands-on Guide to Animating in CSS3 with Transforms, Transitions, Keyframes, and JavaScript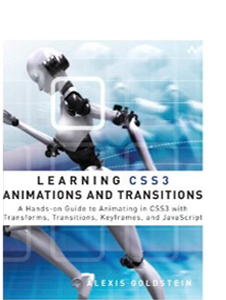 Price: $23.83
Aimed at those already proficient with CSS & CSS3, this book looks like it could take your knowledge of the language to the next level. Learning CSS3 Animations and Transitions is the first book focused entirely on creating sophisticated production-quality rich animations and transitions with CSS3. Leading web development trainer Alexis Goldstein covers everything web developers need to know, teaching through solid examples that help web professionals build their skills one step at a time. Readers will learn about 2D transforms, CSS animations, keyframing techniques, transforms & transitions, parallax scrolling, 3D transformation and animation, Flash-style animations, and more. Read more..
---